Bitcoin has bounced back from losses seemingly arising from the hack of an alternative cryptocurrency, revealed yesterday.
As per CoinMarketCap, the bitcoin-U.S. dollar (BTC/USD) exchange rate slumped to a low of $7,762 at 04:59 UTC, before quickly recovering to $8,100. At press time, the cryptocurrency is changing hands at $8,090 levels. Despite the massive gyrations, BTC is still up 0.66 percent on the day.
The sell-off occurred after cryptocurrency firm Tether reported a $31 million theft of its dollar-pegged token, USDT. As detailed in our update, Tether blamed a "malicious action by an external attacker" for the theft of $30,950,010-worth of USDT on Nov. 19.
Tether was set up as a proxy for USD that can be sent between exchanges, including Bitfinex, Poloniex and others. Thus, the initial response from the market was cautious, as traders weighed the possible market ramifications.
However, bitcoin soon recovered to $8,100 levels, possibly as traders absorbed the news of Tether's plan to lock up the stolen tokens by updating its Omni Core software client.
So, is the cryptocurrency poised for fresh record highs?
BTC could remain well bid as investors may price-in the potential surge of institutional interest in the cryptocurrency following the listing of BTC futures on the CME exchange – anticipated Dec. 11.
Further, the price action analysis shows no major signs of stress in the market.
4-hour chart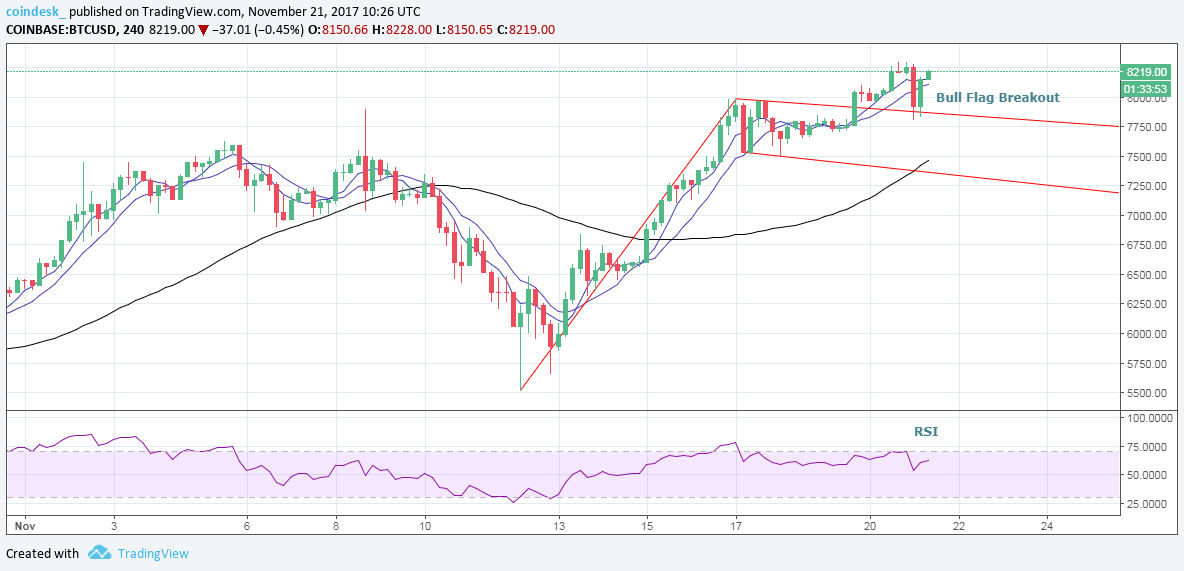 The above chart shows:
The sharp recovery from below $7,800 has defended the bullish flag breakout.
The relative strength index (RSI) is bullish (above 50.00) and well short of the overbought territory.
A bearish divergence (higher highs in price, lower highs on the RSI) has been confirmed, but only a break below the daily low of $7,800 would open the doors for a deeper pullback.
Bitcoin chart
The above chart shows immediate resistance at $8,553 (0.618 Fibonacci extensions).
View
Bitcoin could set new highs around the resistance at $8,553 (0.618 Fibonacci extensions).  Asdiscussed yesterday, the bull flag breakout has opened doors for a rally to $10,000.
Pullback scenario: A break below $7,800 would add credence to bearish price-RSI divergence (seen on the 4-hour chart) and could yield a drop to 10-day MA seen today at $7,400.
You might also like
---