The bitcoin bulls are charging.
A day after hedge fund manager Mike Novogratz said the cryptocurrency will end the year at $10,000, Fundstrat's Thomas Lee doubled his price target to $11,500 by the middle of 2018 — a 40 percent gain from current levels.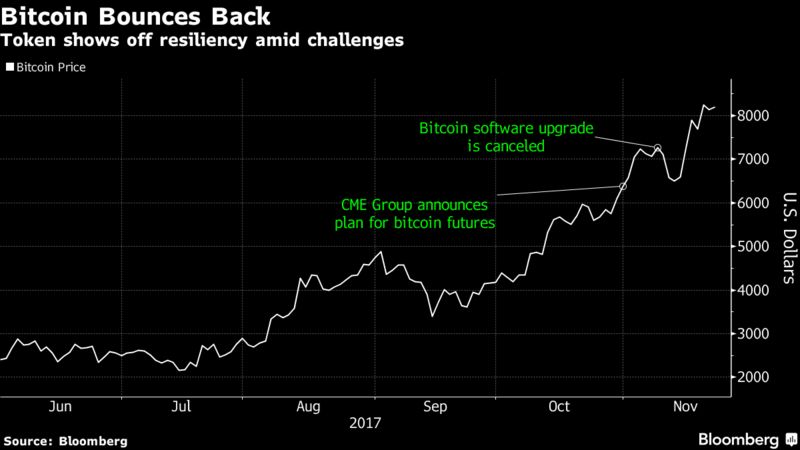 Lee, who heads research at Fundstrat, said a 10 percent pullback earlier this month triggered by the controversial cancellation of an upgrade to bitcoin's underlying software has set the stage for the coming surge.
The November slump "cleaned up weak hands," Lee wrote Wednesday in a note to clients that almost doubled his last forecast. The strategist had warned earlier in the month that bitcoin's rally to $7,000 from $3,500 raised the likelihood for a short-term pullback. "We no longer feel caution is warranted," he said.
Bitcoin rose 1.2 percent to $8,230.12 as of 11:05 a.m. in New York, about $100 short of its all-time high set Tuesday after Novogratz's comments. The most popular cryptocurrency has surged more than sevenfold since December, surpassing $8,000 for the first time this week.
The ride to records hasn't been straight up for the virtual asset, with three separate slumps of more than 25 percent all giving way to subsequent rallies this year.
"We recommend steady buying of Bitcoin at these levels," Lee said in the Wednesday report. Fundstrat also boosted its price target for the Bitcoin Investment Trust, an over-the-counter security that offers investors exposure to bitcoin. Lee predicts it will trade at $1,300 by mid-2018, up from his prior target of $800.
You might also like
---