Bitcoin broke above the $12,000 mark Wednesday morning Asia-time, as the cryptocurrency continued its march higher.
As of 11:33 a.m. SIN/HK, the digital token was selling for $12,198.57, according to industry site CoinDesk.
The asset began 2017 at less than $1,000 per token, but it has been on an absolute tear in recent months: It crossed $5,000 in October and touched above $11,000 for the first time less than two months later, according to CoinDesk data.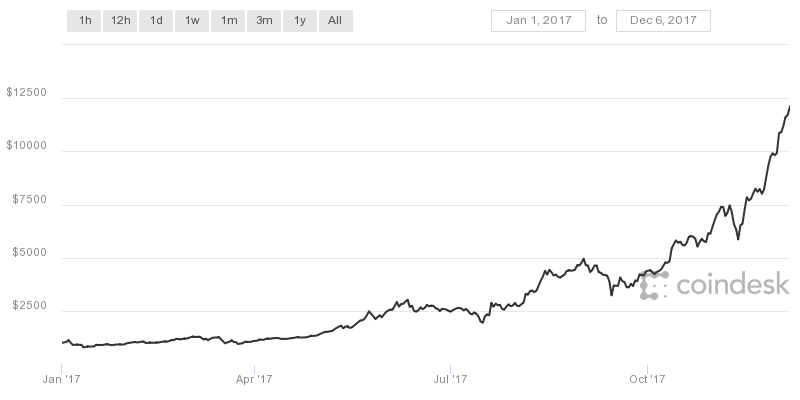 Chart courtesy CoinDesk.
With Wednesday morning's spike, the cryptocurrency now has a total market value of about $203 billion — more than twice Goldman Sachs' market cap.
All of the digital asset's explosive growth has come against a backdrop of steady criticism from many financial luminaries.
For one, Stephen Roach, Yale University senior fellow and the former Asia chairman and chief economist at investment bank Morgan Stanley, told CNBC on Tuesday that he was deeply skeptical of investing in bitcoin.
"This is a toxic concept for investors," Roach, described by Yale as one of Wall Street's most influential economists, told CNBC. "This is a dangerous speculative bubble by any shadow or stretch of the imagination."
"I've never seen a chart of a security where the price really has a vertical pattern to it. And bitcoin is the most vertical of any pattern I've ever seen in my career," he added.
Yet many elements of the financial world have embraced the new crypto asset class: Major exchanges like the CME and CBOE have legitimized the currency's investment credentials by saying they plan to introduce futures contracts to their respective exchanges.
You might also like
---