Bitcoin climbed above $13,000 Wednesday afternoon after topping $12,000 Tuesday night.
The volatile digital currency leaped 11 percent to hit a record high of $13,017.96 and was last trading near $13,000, according to CoinDesk. Bitcoin topped $12,000 Tuesday night in a rapid recovery from a 20 percent drop last week.
The digital currency began the year below $1,000 and its gains have accelerated as investor interest grows. Chicago-based Cboe Global Markets is planning to launch bitcoin futures on Sunday, while the world's largest futures exchange, CME, is set to launch its futures product the following week. The addition of bitcoin futures by two respected exchanges marks another step towards establishing the digital currency as a legitimate asset class.
However, JPMorgan Chase Jamie Dimon has called bitcoin a "fraud." Digital currency investor and former Fortress hedge fund manager Michael Novogratz also said last week that cryptocurrencies like bitcoin are "going to be the biggest bubble of our lifetimes." Novogratz also predicted last week that bitcoin could reach $40,000 by the end of next year.
Bitcoin three-month performance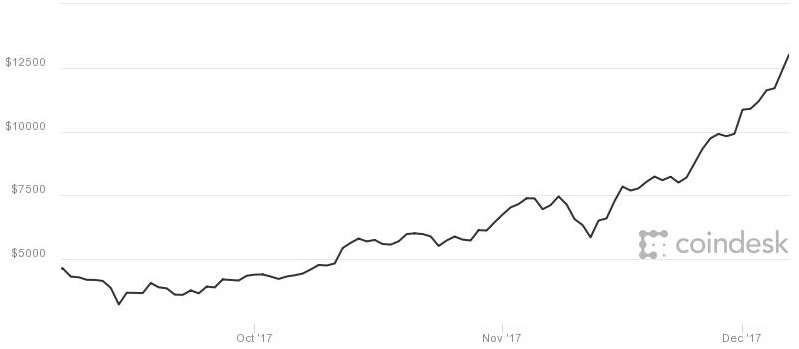 Source: CoinDesk
The bitcoin offshoot, bitcoin cash, traded 2.5 percent lower near $1,465, while ethereum traded 6 percent lower near $435, according to CoinMarketCap.
You might also like
---