Cboe's bitcoin futures rise on stronger demand Friday as the first week of trading wraps up.
Trading volume reached 1,000 contracts Friday morning, near the full-day trading volume of the last few days.
The contract triggers a two-minute trading halt early Friday morning as prices climb, tracking for weekly gains of 17.5 percent.
Cboe's bitcoin futures looked set to end their first week of trading higher on slightly stronger demand.
The futures contract, which trades under the ticker XBT and expires in January, triggered a two-minute trading halt at 5:37 a.m., ET, Friday and was last trading 8 percent higher at $18,170, as of 8:36 a.m., ET. At that price, the bitcoin futures were on pace for gains of about 17.5 percent in their first week of trading.
The contract had traded more than 1,000 contracts by 8:36 a.m., ET. Full-day trading volume had hovered closer to 1,000 and 1,500 in the last few days after topping 4,100 contracts on the first day. That's still relatively small compared to futures for the Cboe's Volatility Index (.VIX), whose daily trading volume typically ranges from the tens of thousands to more than one hundred thousand.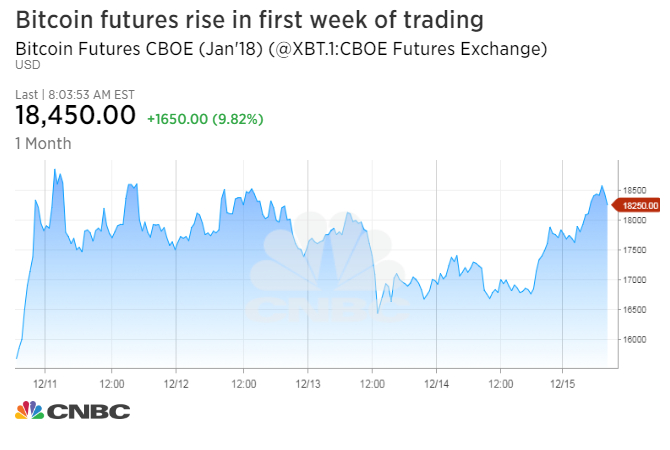 The Cboe bitcoin futures have had a relatively smooth first week of trading. The futures triggered two brief trading halts Sunday night as prices surged, and triggered another temporary trading halt Wednesday as the futures fell 10 percent. The halts were in accordance with Cboe's trading rules and match similar rules for other market products.
However, investor participation remained light as firms preferred to monitor the first futures contract on an established exchange for a notoriously volatile asset. As of Thursday, major banks such as Goldman Sachs were offering limited to no support for clients to trade bitcoin futures.
Bitcoin itself was trading 7.5 percent higher at $17,785, according to CoinDesk's bitcoin price index. The digital currency has gained 10.5 percent for the week, nearly 79 percent for December, and 1,733 percent for the year, according to CoinDesk.
The world's largest futures exchange, CME, is set to launch its own bitcoin futures contract Sunday evening.
Other digital currencies fell Friday after surging in the last few days to record highs. Ethereum traded more than 4.5 percent lower at $662, Ripple, or XRP, traded more than 9 percent lower at 78.4 cents, and bitcoin's offshoot bitcoin cash fell more than 12.5 percent to $1,713, according to CoinMarketCap. Litecoin traded little changed at $279, the website showed.
You might also like
---